Why practice Tantra?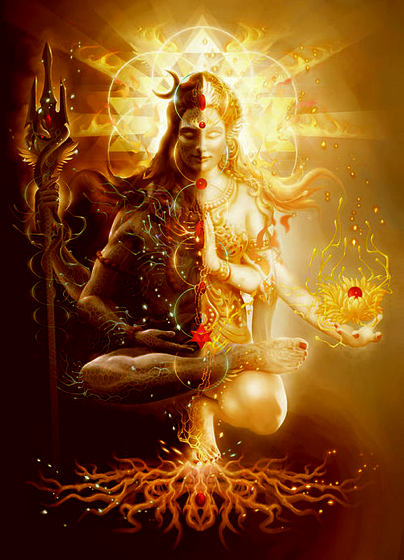 "Tantric Marriage" by GeoGLYPHIKS
There are probably as many answers to the question of 'why practice' as there are people interested in practicing. Some practice to heal emotional scars or traumas. Some desire greater sexual sensations and ecstasy. Many want to create more love and a deeper connection with their partner. Some have heard of "sacred sexuality" and want to experience that in their lives.
We have seminars and workshops which cover the following topics:
Awaken to intimacy
By being present to our physical senses, by listening deeply with our eyes and ears, senses of touch, taste and smell, we create an intimacy with the present moment. Whether you are alone in silence, crowded in a market full of noise, or in the middle of a routine day with your life partner - being fully present to the present moment is the key to experiencing more intimacy in your life. This course includes many excercises and teaches how to 'listen with your heart'. This class is considered foundational to the tantra-arts curriculum.
Surrender to pleasure
Our society has placed such a strong emphasis on the active pursuit of pleasure. Our media is full of images celebrating the hot, frantic tearing of clothes in romantic encounters. Love and sex are rushed in our society, leaving very little time to savor the experience and deeply feel the pleasure. This course explores what it means to surrender - for both men and women - and how that can lead to heightened sensitivity and greater sexual satisfaction.
The God/Goddess archetype
So many new-age books and other popular media memes encourage us to see women as 'the goddess' - and demand that our men show up and honor them as such. This course explores the concept of archetypes in a healthy and balanced way. We approach this topic with the deepest of respect. Specific exercises allow us to identify which archetypes are useful in certain situations, and how to access them while still maintaining balance in our relationships.
Sacred sex
What is meant by sacred sex? Have you ever experienced it? What is the difference between prayer and meditation, and can this distinction be leveraged to provide a deeper, more soulful sexual experience? This course explores how tantric sex enables us to access the spiritual realms and how to apply this experience to all areas of our everyday life.
The path to enlightenment
Can sexuality actually be a path to enlightenment? What guidelines must be followed, what secrets must be known, what techniques must be mastered in order to realize such a dream? This course builds upon all previous courses and explores the very nature of the spiritual path itself.
"First, I think Mr Koa is so nice, we feel relaxed when studying with him. He respects us and he has the virtue of patience. Although it goes a little bit slowly, the course makes shy people, such as my husband, feel comfortable. Although my husband has been reading books about Tantra, we will never again regard Tantra simply as sex or sexuality - we consider it now as being a respect of lives. We were deeply moved by that. My husband actually is soft in his heart, the only problem is that he pretends to be cool, not willing to get close to others. This course has changed him. He becomes more caring and loving. I have been to some groups related to body healing, however the quality feeling I gained this time has never been felt before. The teacher is so professional and he brought me into some soft areas. I am excited to continue on and practice with my husband!"
-- Maria, age 41