What is Tantra?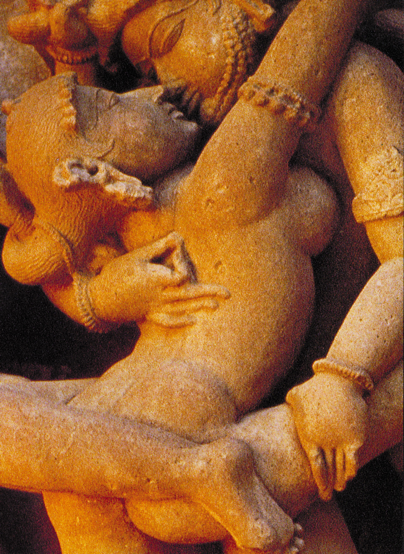 Khajuraho Monuments, India
Tantra is:
an ancient art,
a profound philosophy,
a set of sacred rituals,
mis-understood as being just about sex, and
at it's core, a spiritual practice
We have seminars and workshops which cover the following topics:
History & Philosophy of Tantra
Tantric ideas can be traced to some of the earliest of human writings - the Vedas - and much of what we teach can be traced to documents from the 4th and 6th centuries. Tantra is the very foundation of both Hatha and Kundalini yoga, and understanding this connection opens the door to a finer appreciation of modern yoga and to a deepening of your own personal practice.
Meditative Tantra
What does Tantra have to do with Kashmir Shivaism and Tibetan Buddhism? We explore these ancient teachings, look for ways in which they are similar, and discuss how modern day teachers of these philosophies can add depth to your spiritual pursuit. This course includes specific meditation practices, and is considered foundational to the tantra-arts curriculum.
Taoist Tantra
What does Tantra have to do with the Chinese Tao? Teaching from an ancient body of knowledge which is remarkably similar to the Tantras, the Chinese Taoists have a very different perspective on sexual energy. An understanding and application of Taoist sexual practices provides a marvelous complement to traditional Tantric teachings.
Sexual Tantra
Tantric sex is often thought of as a hedonistic smorgashbord - and this can challenge many people's sense of morality. Others simply dismiss Western Neo-Tantra as being a misguided approximation of ancient tantric knowledge. However, like almost every other spiritual tradition, Tantra is often misunderstood and misrepresented. In this course, we strive to present Tantra in a balanced and historically accurate context. The path of Tantra embraces ALL human experience, including sex, and we don't shy away from this fact. By shining a divine light on our sexuality, we open the door to profound healings and life-changing bliss.
"It was a beautiful journey, which was beyond my imagination. Before the course, I thought Mr Koa is a powerful, masculine and wild man when I saw his pictures. With the course going on however, I as a woman got deeply impressed by his ability of acceptance and softness. I can feel his pureness, his respect, his love and happiness when he shared with us about his Tantric experience. I was deeply moved by his understanding and cherishing of feminine energy. I've learnt so much, about femininity, masculinity and sexual energy, about how to pass through different feminine energies freely and purely, about how to interact with my lover at the level of spirit and body, about who I am, about what my partner needs and about the demands of men and women. New thoughts and possibilities came out from the love relationship practices and we were immersed in the purity and beauty of the healing energy. I am so lucky and I appreciate that I had such an opportunity to learn and grow up. Thank you Koa!"
-- Lailla, age 32