How do we practice Tantra?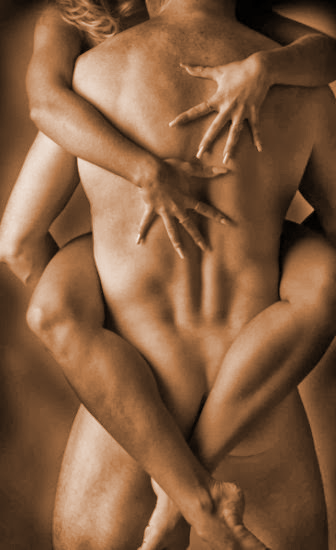 "Eternal Embrace"
Let's start by UNLEARNING as much as we can of what we ASSUME to know about our human body and the way we live in them! Most of us were not given any meaningful love, relationship, nor sexual education. Our bodies are capable of feeling so much more pleasure than we often allow ourselves to feel. Our courses are designed to break down barriers and teach our students how to live fully in their bodies!
We have seminars and workshops which cover the following topics:
Yoga: stretch your perceptions
What is commonly taught as 'yoga' in the west was actually created in the early 20th century as a form of excercise to prepare students for meditation. Notwithstanding, there are ancient tantric texts which describe postures and methods for moving energy in the body. In this course, we engage in specific exercises which connect modern yoga to ancient breathwork and energy practices - in order to open our bodies to greater sensate awareness. This class is considered foundational to the tantra-arts curriculum.
Energy: the foundation of tantra
Before we unlock the door to Tantra's ancient mysteries, we need to discover our own sense of self, establish our own personal boundaries, and decide how much of our 'self' we care to extend to others. In this course, we examine the energetics of our human experience - the 'chakras' and the energy pathways which animate our physical bodies. This course includes exercises designed to give you direct perception of your own energy, so that you can be better equipped to share that energy with your lover.
Anatomy of arousal
Most adults have not truly studied sex, sexuality nor the bio-mechanics of arousal - leaving them to fumble through (or simply repeat) the same old seduction patterns they've been using for years (or even decades). In this course, we explore the human physiology of arousal for both men and women, and we build upon this knowledge in order invoke and enhance our partner's arousal. This is a fully clothed, yet sexually frank, discussion of our human bodies.
Tantric techniques
Ancient breath work techniques, esoteric hand postures, practical love-making skills and in-depth relationship coaching that will transform the way you interact with your lover. In this course we teach you how to extend the depth, power and duration of your orgasms. We teach you how to transmute your sexual energy into a creative force which you can harness in all areas of your life - not just the bedroom. And most importantly, we teach you how to use these ancient tantric techniques to open yourself to more love than you've ever thought possible.
Tantric touch
This course teaches several very specific tantric techniques for touching our partner. Differnet modalities of touch, how to enhance excitement and how to create a seamless, hypnotic energy that will rise your partner to the highest levels of ecstatic bliss. Students pair up and practice what they've been taught - so that they leave the seminar with actual experience and new found skills - not just theoretical knowledge.
Sexual healing
The use of sexual energy to bring present-day love and erotic healing energy to traumatic and emotional wounds of the past is one of the most precious crown jewels of sexual tantra. In this course we discuss and explore how professional tantra healers can help to release energetic blockages and thereby free your body to experience greater pleasure.
"I feel a bit sad after I have come back home. I shed my tears when listening to music. I don't know why, but I feel that I have been living in vain for the last few decades. The intimacy and love relationship in your course have really broadened my horizons. Actually, I realize I have no deep understanding of men and have never studied my feminine energy in a responsible and earnest manner. What I've gained from your course is beyond words. I am writing down my experience and reflections, and telling my friends how fantastic and helpful your course is. I'm full of confidence for I've never had such a clear understanding of a course. Thank you for your guidance. I also have learned to open wider to the outside world."
-- Wanda, age 48