Tantra with Koa
in Hot Springs Cove, BC
October 11-16, 2016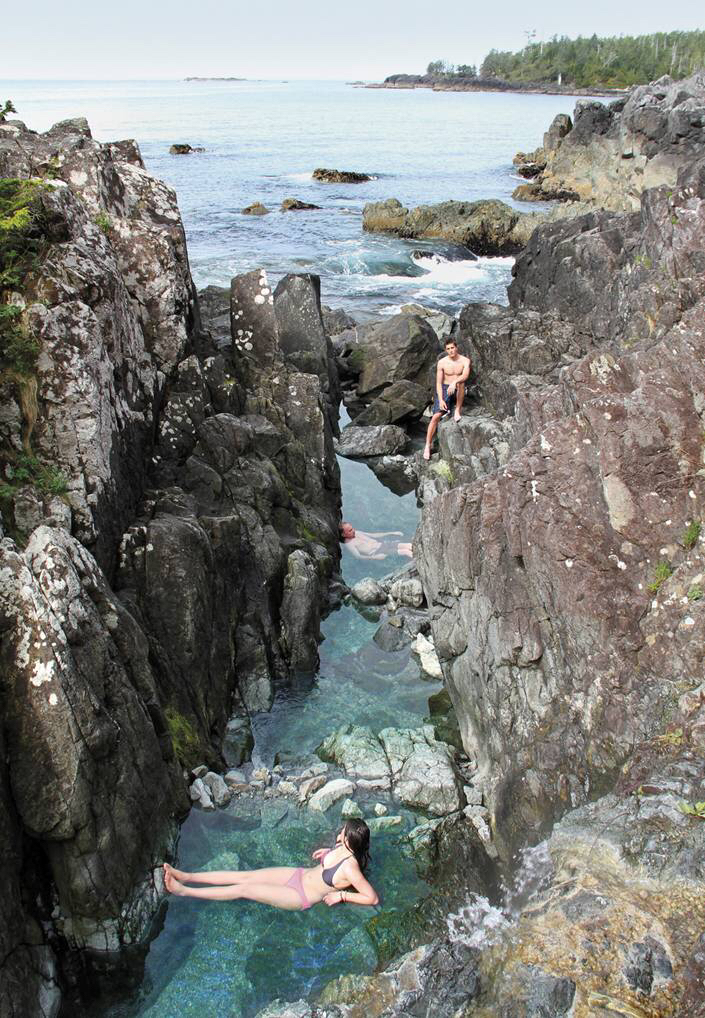 The natural warm pools at the springs
Join Koa for an exceptionally small & intimate group (only 6 couples) for 6 days of tantric exploration in one of the world's most pristine and magical locations - Hot Springs Cove, Vancouver Island.
Nestled on the edge of the Pacific Ocean, we lucky 6 couples will fill our senses with beauty and a deep appreciation for each other and all that Mother Nature provides.
Commune with nature
Tantra grew out of a shamanistic tradition which recognized our connection to all that is. And what better way to connect to tantra's core message than to be bathed in the natural waters of Hot Springs Cove, warmed by Mother Earth's molten core, and to witness the beauty of the natural world surrounded by an old-growth coastal rain forest?

Together we will experience tantra as an authentic expression of loving devotion to all of our sensual pleasures. From the epic views of the Pacific Ocean, to the sweet smells of an ancient cedar forest, to the rich sounds of raven calls, to the tastes of lovingly crafted delicious meals, and to the intensely comforting caress of the the cold pacific ocean as it comes into union with the hot spring waters, dancing over the skin of your entire body.
The essence of tantra
A philosophy with roots in ancient pre-history, tantra is the clear and unmistakable foundation for all that we think of as yoga. Tantra delivers intimacy in the lives of all who learn it's secrets.

Largely misunderstood and known widely as "tantric sex" - many are put off from learning more. But the practices we will share in this retreat honor the deeply spiritual nature of the tantric path. There is nothing obscene nor disrespectful in this course. In fact, we are committed to quite the opposite!

Tibetan Buddhists, Chinese Taoists, and Indian Hindi still teach today precepts of tantric practice. We will discuss the highly ritual nature of these forms of religion, but we will bypass the most rigid and esoteric rituals - and focus instead on practices which teach the very essence of tantra.

We will practice daily tantra yoga, go on powerful guided meditation journeys and dive deep into the nature of the divine masculine and feminine archetypes. We will learn to recognize the divine light within each of us. We will create an atmosphere of respect, love and magic. The exact content of the retreat will be drawn from many of the courses listed on the tantra-arts website, and will be customized for our group to reflect the levels of experience and energy as they arise in the moment. Each day of this retreat will be dedicated to giving you mastery over tantric techniques that you can use to nurture and grow the intimacy within your relationship.
Bathe in luxury
Our journey together will begin in Vancouver, Canada. We will ferry across to Vancouver Island, bus together to Tofino, and board a whale-watching boat that will take us the rest of the way. Don't be surprised if we see bald eagles, ravens, wolves, bears, humpbacks, grays or killer whales.

Gourmet meals served aboard the InnChanter's dining salon

Once we arrive in Hot Springs Cove, we will be staying aboard a floating B&B called The InnChanter. An early 1900's wooden ship which has been lovingly restored to the state of a 'floating museum' by it's owner and hospitality captain, Shaun. Artistically themed cozy rooms, comfortable beds, cafe lattes, 5-star meals and omnipresent beauty await us. Our classes will be held outside on the InnChanter's spacious decks, inside around it's cozy wood-burning fireplace, and of course, in the hot springs.

Interspersed with our tantra lessons are beach combing, kayaking, hiking, and the main attraction, soaking in the hot springs.

Walking meditations in the ancient rainforest

The cost for this retreat is $2500 per person, and is being offered to a maximum capacity of only 6 couples. Cost includes accomodations, all meals aboard the InnChanter, transportation from YVR to Vancouver Island, and 2 whale watching tours which will bring us to and from the InnChanter. Currently, airfare from Los Angeles to Vancouver's YVR is $250 with 2 week notice.

For more information, please email Koa about the tantra retreat in Hot Springs Cove, BC