We are Tantra Teachers!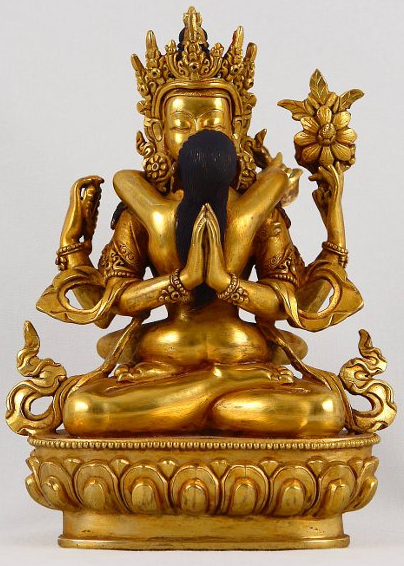 "Yab Yum" posture
We offer...
seminars (evening)
workshops (weekend)
retreats (10-day)
custom teachings (made to order)
...all of which draw upon the world's foremost experts in...
Western Tantra
Tibetan Buddhism
Kashmir Shivaism, and
Laya (Kundalini) Yoga
Our curriculum offers a unique blend of all of these traditions.
Choose our most popular topics -- or build your own!
The pages on this site detail our public course offerings. We have some suggested, pre-selected curriculum - which consist of a subset of these topics - chosen to fit within a given duration of time (an evening / a weekend / a 10-day retreat).
We can also custom-tailor an education package which meets you and your group's needs. For example, some groups are more interested in the Laya yoga, some in the meditative aspects, some want more emphasis on sacred sexuality. Depending upon what interests your group, we can select from these topics and we can also add emphasis by including additional practical exercises which will allow for a deeper understanding of the topics you've selected. Which ever courses you select, please keep in mind that there are 3 courses which provide the foundations of all tantra-arts teachings:
Meditative Tantra,
Yoga: stretch your perceptions, and
Awaken to Intimacy
Browse through our site and see which of our offerings excite you to learn more!
Our goal is to give you a felt-sense of what is possible when the principals of Tantra are applied in your life.
"I feel a stronger sense of intimacy as a result of coming on this retreat - I love my husband more than ever! I don't know why, but when I followed the teacher in theory and practice, it all just happened unconsciously. It was a precious experience - an experience of love that I've never had before."

"I have always paid so much attention to nice things, not people, always wondering what happiness those things will bring me. I have such a different understanding of intimacy now - it seems I've cared so little about my husband. From this course, both my husband and I learned how to care for each other, understand each other and how to feel each other."
-- Lee Ann, age 34
Learn more about what is Tantra